a contemporary house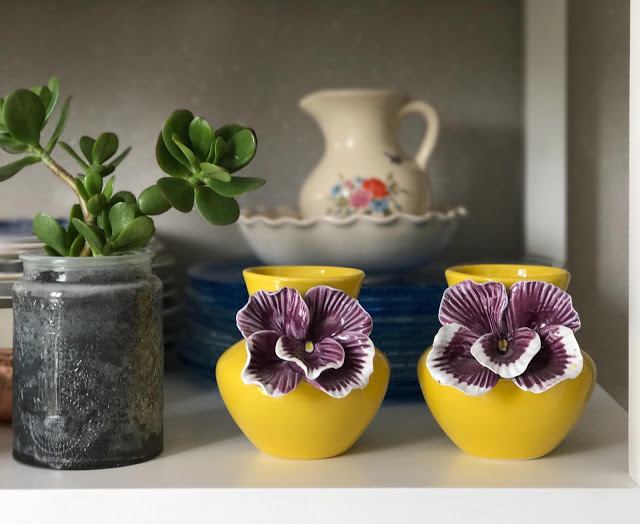 Hello! Today we present you a super nice house. It is a design by architect Amado Cattaneo, who if you do not know him, I recommend you see his works!
I want to thank Tati, owner of this house who welcomed us so kindly and allowed us to enjoy her!
div>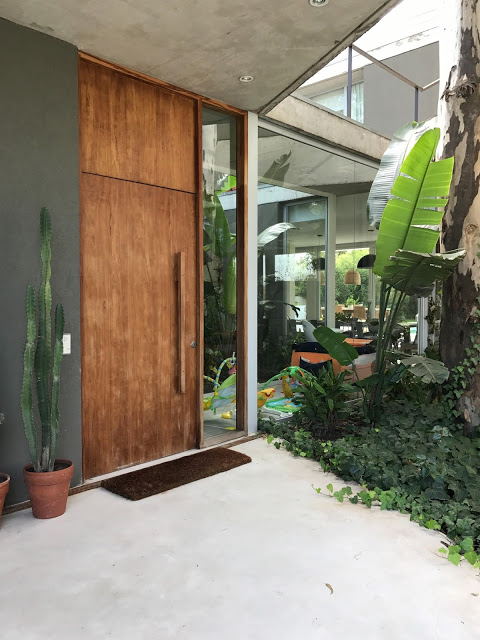 We enter? This is the main door, is not it beautiful? I loved it! It is made of wood and made by a carpenter. The concrete stands out in all the house in a forceful way and stands out against the nature and the prevailing green.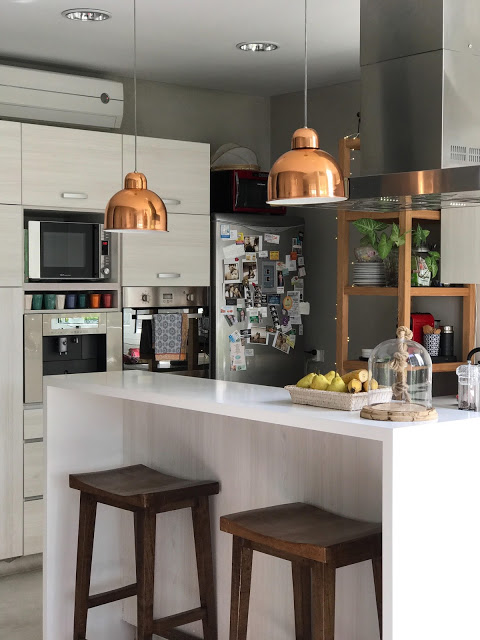 You already know that cooking is my favorite space. In this house I loved the combination of modern furniture with super warm details! The copper lamps give it a glam touch, and they are from Paul French Galery. In addition furniture with shelves in view always add up and more when they have such beautiful objects, no?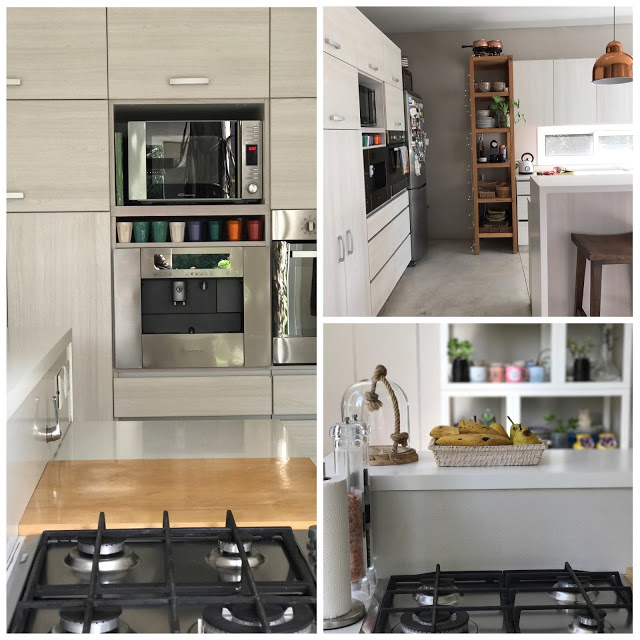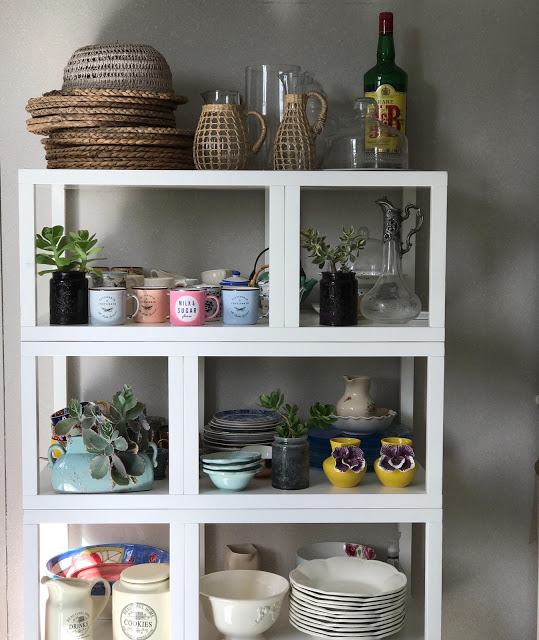 In this house the color that stands out is gray. In the photos below I wanted to synthesize the details that caught my attention as I was getting to know her.
It is a house with a rationalist structure, but in its decoration it is more eclectic.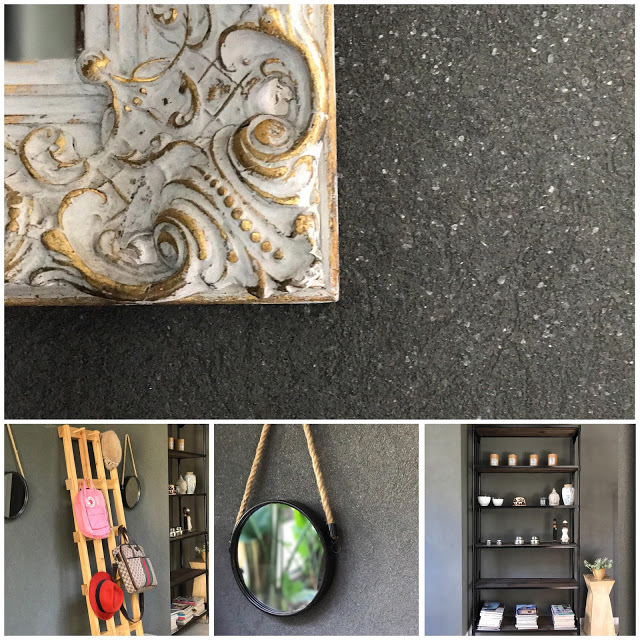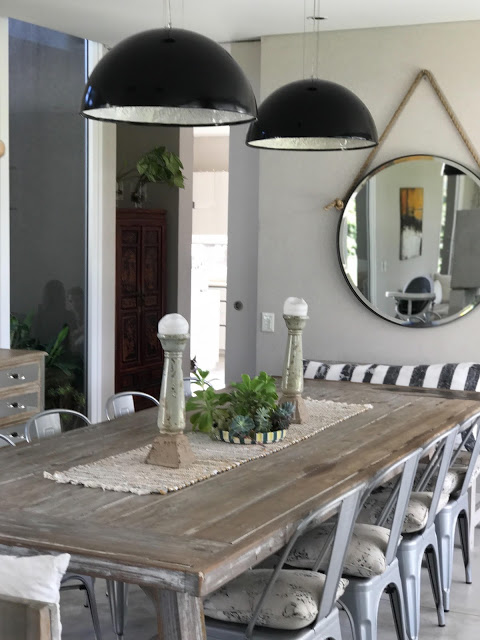 This is the main dining room. It highlights a very large rustic wood table combined with tolix chairs and a large round mirror. The black lamps are of Aguero Lighting.
The entire floor of the house is made of smooth cement.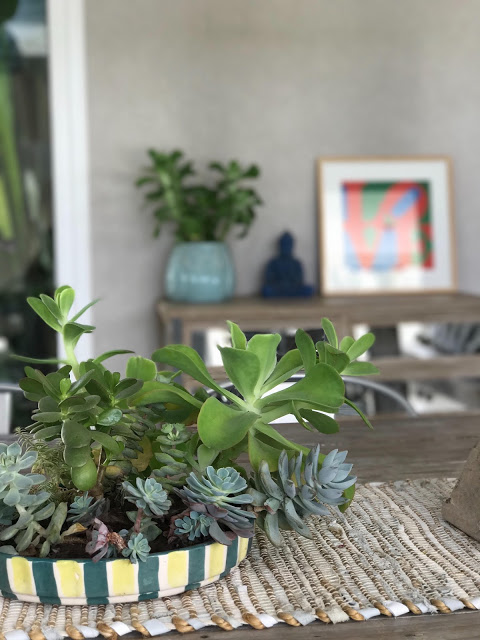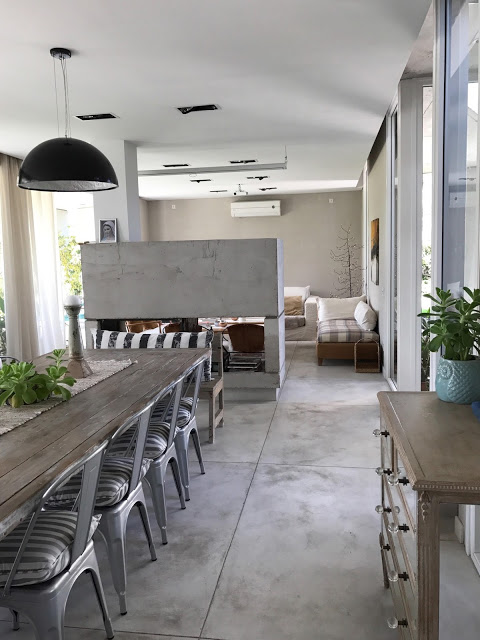 photo can see how the dining room is connected to the living room.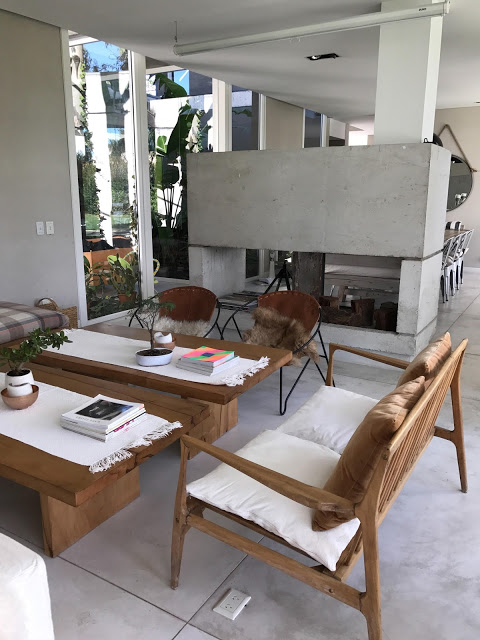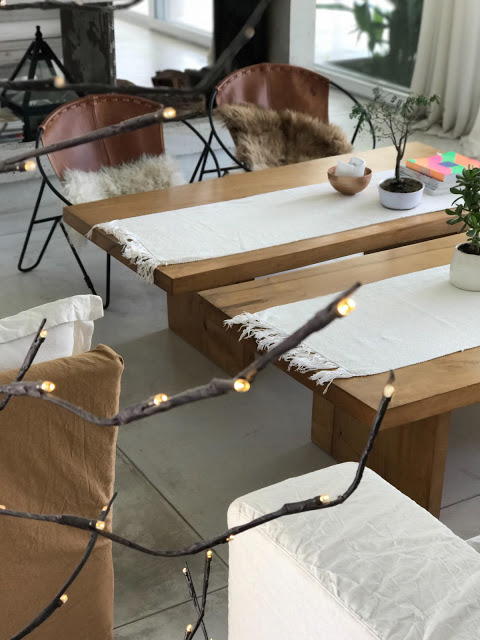 Gray, wood, white, earth tones. This color palette is repeated throughout the house.We access this staircase made of smoothed cement and wood.
Below we see the small room of the house, surrounded by super romantic objects. A careful decoration, full of details but without stridency. Harmony, delicacy and design objects complement the space.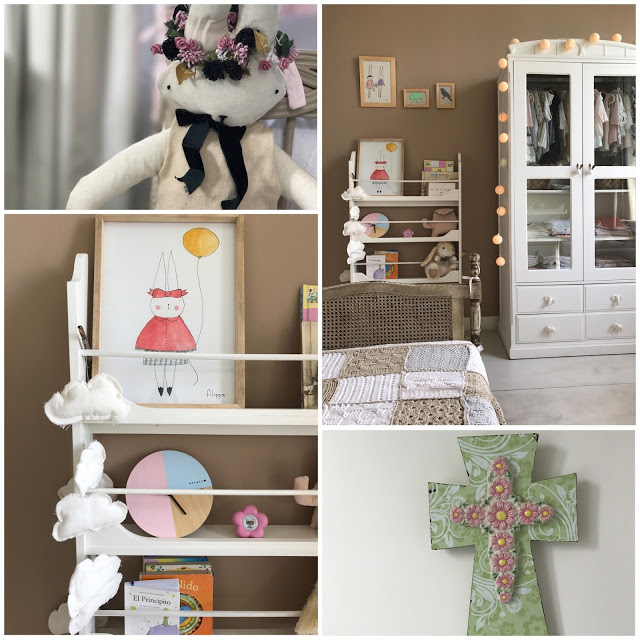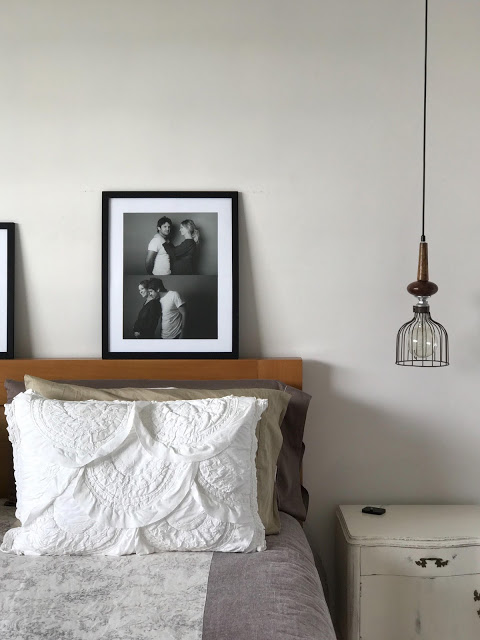 The main room is also very careful in its setting. Simple, warm and harmonious like the whole house! I loved the detail of the pictures with the photos of them on top of the back of the bed.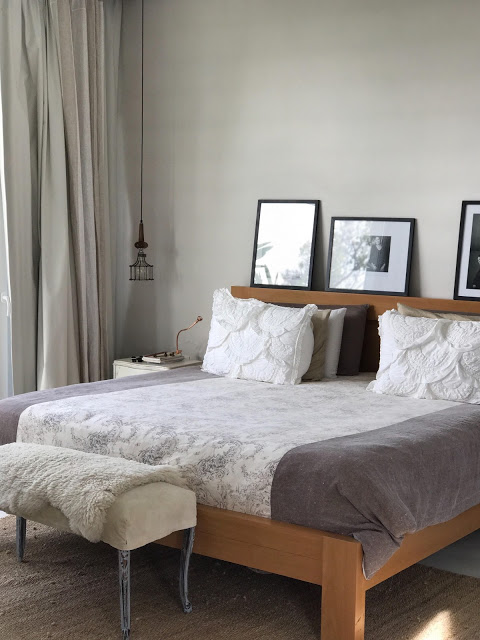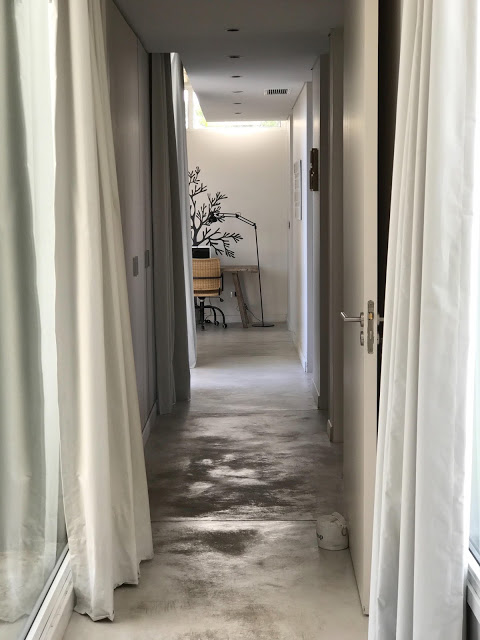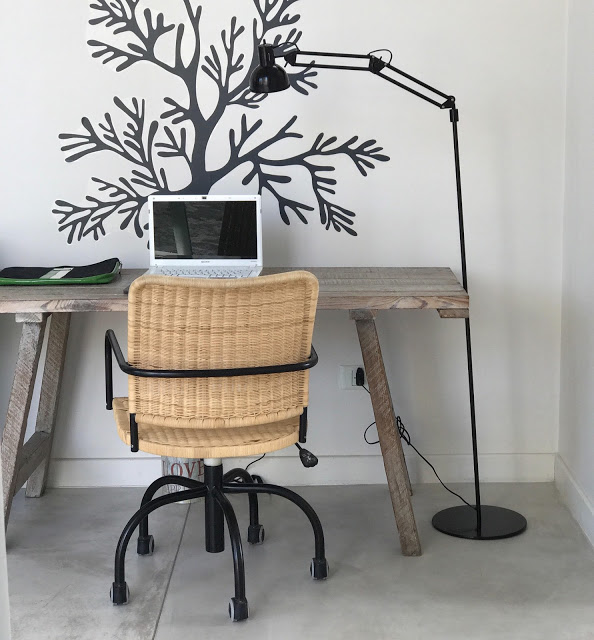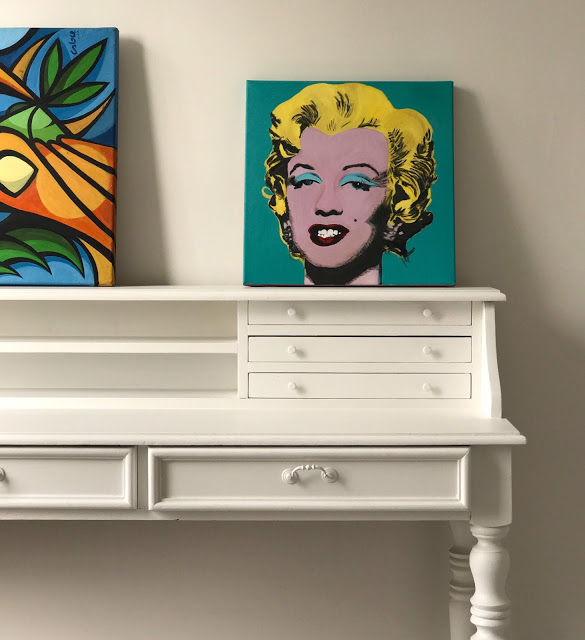 A corner of the guest room, where the works of Patricia Di Paola stand out.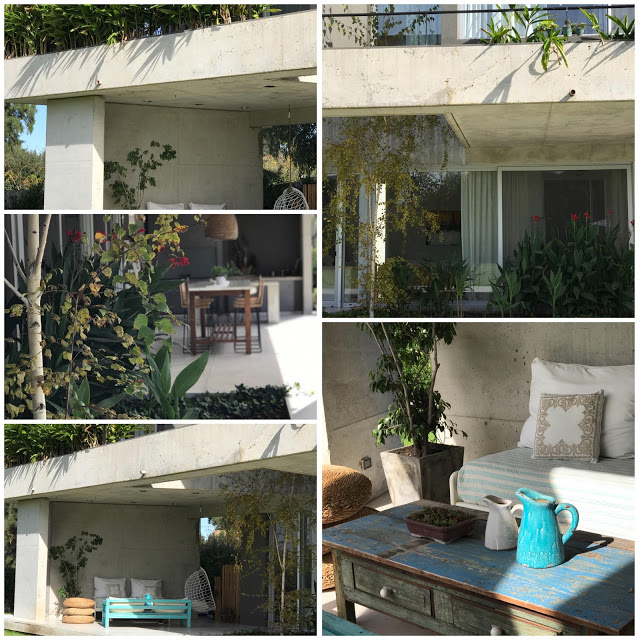 The gallery is huge! Simply perfect! The table made of Carrara marble and wood is of Another Time. It is huge and several spaces coexist: the grill area, the huge table with its chairs, a beautiful green space and at the end a super warm living that invites you to stay forever !!!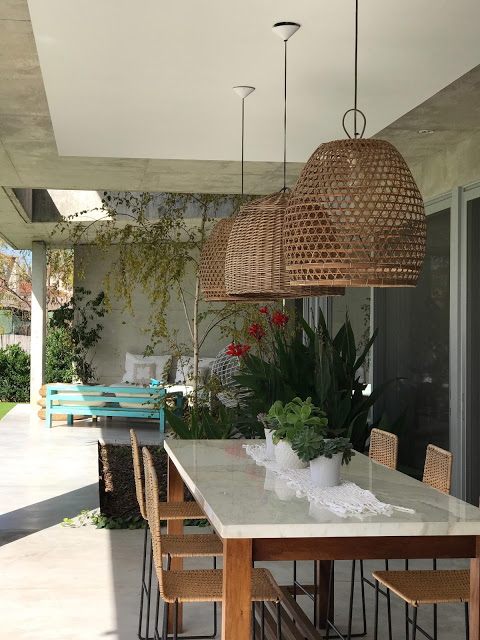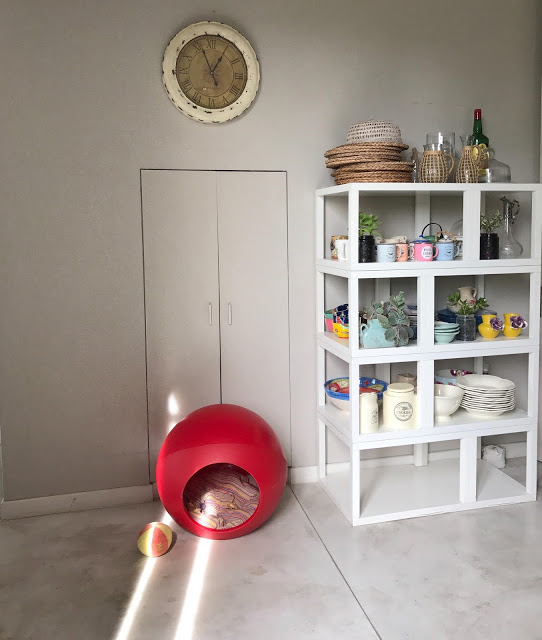 Well I hope you enjoyed this walk through this wonderful house! I loved meeting her and I decided to finish this post with one of the photos that I liked the most! I think it perfectly synthesizes the style of the house: modern, simple, with design objects, but also with objects with history, inherited, of those that make a house a unique and different place!
We are next Monday !!!